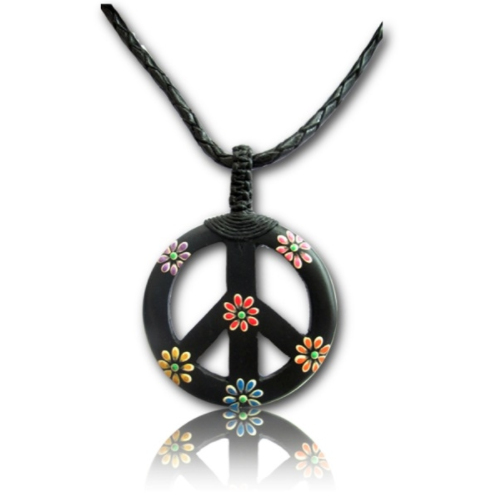 Hand painted Narra Wood Peace Pendant
ABOUT
Narra wood pendant with cotton cord necklaces (free size)
Hand painted
Handmade 
MATERIALS
We use many different types of wood and none of these are prohibited or taken by illegal means from any rain forest. Our partner has a 2 for 1 policy in which they guarantee that they plant 2 trees back for every tree used for production.
In this way they make their contribution to a more environmentally friendly future and help decreasing harm done by green house gases
SOCIAL OBLIGATION
Produced in remote areas of Indonesia and Thailand where local expertise still fuels traditional techniques of hand carving jewelry. After years of research our supplier has  now created our own factories where highly skilled and experienced locals are doing what they do best; hand carving with great care and finesse
Our partner has succeeded in creating a unique local Eco-awareness and assisted in development of their local economy. A major part of our sales flows back into the local communities where there factories are located. They are involved in important social development projects.
---
Share this Product
---
More from this collection